5 Questions to Ask A Roofing Contractor Before Hiring Them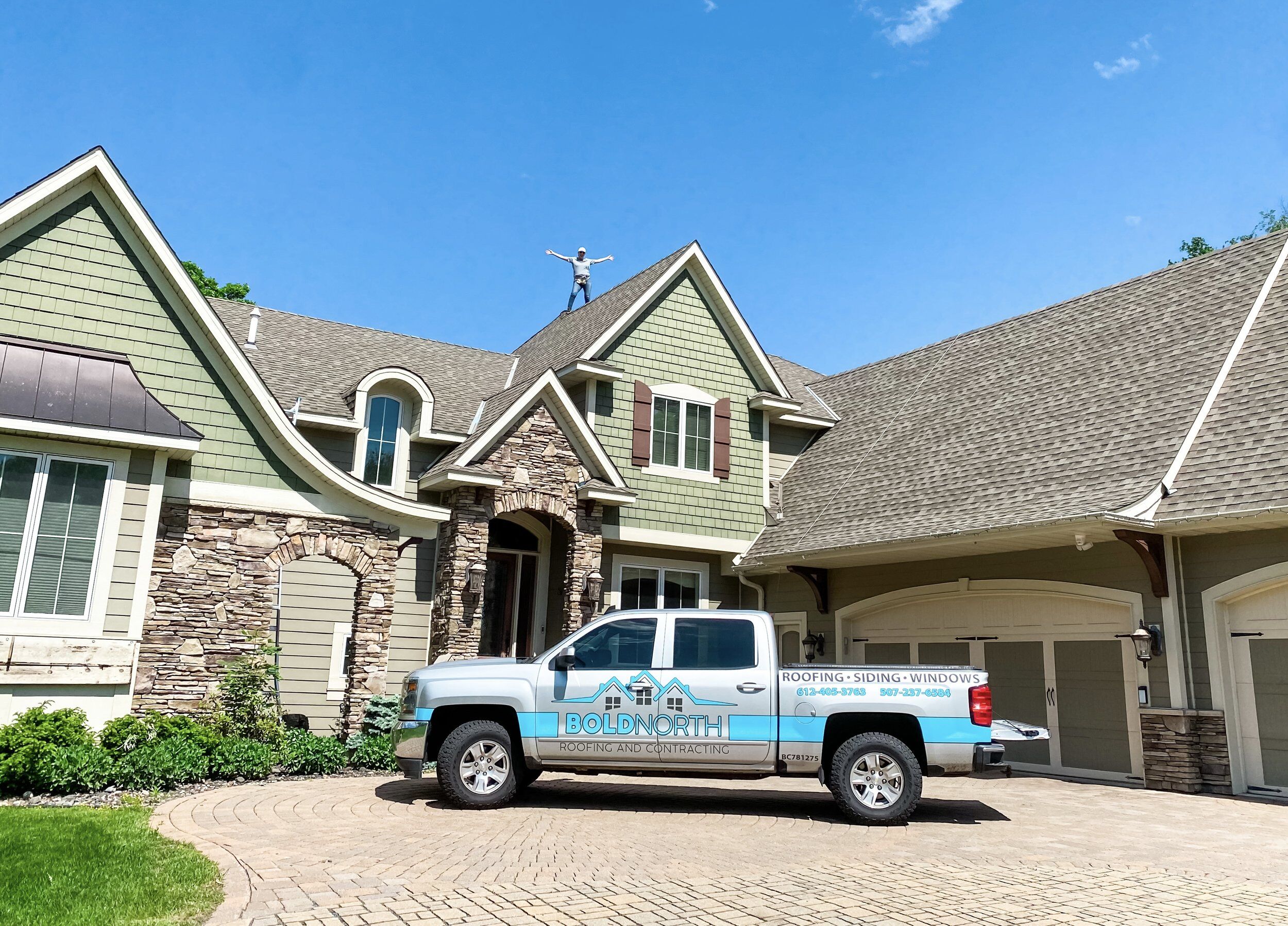 Replacing your roof is a big deal, but chances are, you have never been faced with this task before. A new roof will benefit your home's value and protect you from the elements.
It is important to familiarize yourself with the process and know which questions to ask before hiring a roofing contractor. Here are our top 5 questions to ask:
Are They a Licensed Contractor?

Minnesota requires roofers to obtain a license before any bidding or work can take place, so there is no shame in asking for a copy of their license. This is a huge investment for your home, and a contractor without a license is one to avoid.

Here are a few reasons you should only hired licensed contractors:

Safety Standards: A licensed contractor is trained to comply with safety regulations. This is crucial not just for the safety of the workers on your property, but also for the long-term safety of your home. Licensed contractors are knowledgeable about building codes and regulations, ensuring that your roof meets all safety requirements.
Quality of Work: Licensing typically involves passing certain exams and meeting experience requirements. This ensures that the contractor has the necessary skills and knowledge to perform high-quality work. A licensed contractor is more likely to understand the complexities of roofing and can provide solutions tailored to your home's specific needs.
Insurance and Liability: Licensed contractors are required to have insurance, which protects you from liability in case of accidents or damage during the roofing project. This insurance coverage is essential for protecting both you as the homeowner and the workers on your property.
Legal Compliance: Hiring a licensed contractor ensures that all work complies with local building codes. Non-compliance can lead to fines or issues when selling your home. Licensed contractors will obtain the necessary permits and ensure that their work meets all legal standards.
Warranty and Guarantees: Many manufacturers of roofing materials require installation by licensed professionals for their warranties to be valid. By hiring a licensed contractor, you ensure that you are fully covered by any warranties on the materials used.

What Insurance Do They Carry?

Contractors are required to maintain compliance with the required general liability insurance and worker's compensation laws.

Accidents can happen with even the most experienced roofers, so it is important to ensure they are covered. You may want to request that they provide you with an updated certificate of insurance. You want to make sure you are protected!

Ensuring that your roofing contractor is adequately insured is not just a matter of compliance, but also of protection for both parties. A good insurance policy for a roofing contractor should include the following components:

General Liability Insurance: This is fundamental for any roofing contractor. It covers property damage and bodily injuries that might occur during the roofing project. For instance, if the contractor accidentally causes damage to your property or a neighbor's property during the work, this insurance will cover the repair costs.
Worker's Compensation: This is essential to protect the workers on your property. If a worker is injured while working on your roof, worker's compensation insurance will cover their medical expenses and lost wages. Without this insurance, you, as the homeowner, could potentially be liable for these costs.
Completed Operations Coverage: This part of the insurance covers liability for any incidents that might occur because of the contractor's work after the project is completed. For example, if a mistake in the roofing installation leads to a leak or damage in the future, this insurance can cover the costs of repairs.
Umbrella Coverage: Some contractors may also have umbrella coverage, which provides additional protection beyond the limits of their other policies. This is usually more important for larger, more complex roofing projects.
Proof of Insurance and Policy Details: Always request a copy of the insurance certificate and check the policy's validity dates. It's a good practice to call the insurance company to verify that the policy is active and to understand the specifics of the coverage.

As a homeowner, it's crucial to understand these insurance aspects to ensure that you are fully protected during the roofing project. A contractor who carries comprehensive insurance coverage demonstrates professionalism and a commitment to safety and responsibility.

What is Their Installation Process?

A reputable roofing company will have their installation process down to a science. It is important for you, the customer, to know how this large undertaking will be handled step-by-step.

Your chosen roofing company should make this a stress-free process, so they should be providing you accountability and quality with their process.

What is Their Workmanship Warranty?

Although the manufacturer of roofing materials typically offer a warranty, it will likely not cover an improper install. Manufacturers only honor their warranty if materials were installed according to manufacturer's specifications.

It is crucial for a roofing company to offer their own guarantee on workmanship to protect your investment. That is why we offer a lifetime guarantee on all work and materials.

Understanding the difference between a manufacturer warranty and a workmanship warranty is key to ensuring your roof is adequately protected:

Manufacturer Warranty:

Coverage: This type of warranty typically covers defects in roofing materials. If the shingles or other roofing materials fail prematurely due to manufacturing flaws, the manufacturer warranty should cover the cost of materials for repair or replacement.
Duration: These warranties often last several years, and some may offer limited lifetime coverage, but the terms can vary significantly between different manufacturers.
Limitations: It's important to note that manufacturer warranties usually only cover the materials themselves, not the labor costs of installation or replacement. Also, they may be voided if the materials are not installed correctly or if the roof is not maintained according to the manufacturer's guidelines.

Workmanship Warranty:

Coverage: A workmanship warranty is offered by the roofing contractor and covers errors in installation. This is crucial because even the best roofing materials can fail if they are not installed properly.
Duration: The length of these warranties can vary, but many contractors offer a warranty of several years, and some may even provide lifetime warranties on their workmanship.
Importance: This warranty is your protection against potential mistakes or shortcuts taken during the installation process. If problems like leaks or loose shingles arise shortly after installation, a workmanship warranty should cover the costs of fixing these issues.

Both warranties are essential for comprehensive protection of your roof. The manufacturer warranty safeguards against material defects, while the workmanship warranty covers the installation. Make sure to ask for details on both warranties, including their duration, what is covered, and the process for filing a claim. A reputable roofing contractor should be willing to discuss these warranties in detail and provide written documentation for both.

Do They Have Reviews?

Reviews are a great way to gauge a company. Just as you would with a restaurant, it is important to do your due diligence on a roofing company's reviews. This will provide insight to customer experience and satisfaction.

Once you feel confident in the services they provide, you should reach out to set up a roof inspection.
You shouldn't compromise with a roofing contractor. Bold North Roofing & Contracting stands by their lifetime guarantee and strives to provide the highest level of customer service. Let us help your home go boldly into any storm or night.
If you are in need of a new roof, schedule a free inspection today with our qualified team of professionals.